ADECO is actually working for three projects, two of them in Guatemala.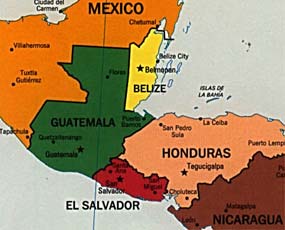 Guatemala is the third most extended country of Central America, the most populated and one of the most poor. Situated at the southeast of Mexico, surrounded by mountain ranges with many volcanoes and a tropical climate. The area is rich in natural resources but its slightest economical development prevents their use in a rational way.
The main branch of the industry is the agrarian intended to the subsistence farming and representing the 60% of the working population.
During the XXth Century, dictatorships, natural disasters and political movements were a succession of events which consequently degenerated the situation of the Guatemalans.
According to the Program of United Nations for Development, the illiteracy rate rises up 45%, one of the most important of the continent. The infant mortality is quantified in 59 for one thousand while the average for Central America is 48 for one thousand.
Guatemala is politically divided into departments, themselves divided into municipalities. San Ixtán is a village of the municipality of Jalpatagua being part of the department of Jutiapa.
Situation of Jalpatagua and San Ixtán
The municipality of Jalpatagua is situated at the oriental part of the country, border with Salvador. Spread on 204Km2 and situated at 557 metres from the sea's level. .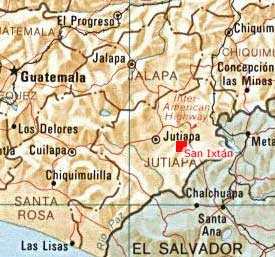 San Ixtán is a village of Jalpatagua situated nearby other municipalities such as Jutiapa, Quezada, San José Acatempa. According to a governmental report of 2001, the 40% of the working population of this rural zone lives in an extremely poverty, rate which amounts even to 73.8% for the native population.
The houses are huts made by a joining of reeds and mud, they cook on stones sharing this space with their animals, transmitters of several diseases. Above population has an economy based on the culture of corn. The infrastructures are insufficient and any workforce is useful and used, even children in age of schooling . The children are the consequence of the ignorance and they daily grow up to survive losing any expectation for the future and submitting themselves to the vicious circle in which their own children will also take part……as long as nobody will make them understand the benefits of the education.