ADECO has a delegation at the village MalNombre - Dominican Republic doing the same labours as in Guatemala.
The Dominican Republic is situated in the Caribbean islands , at the oriental part of the island La Española shared with Haïti. C. Colon was the first one in landing on this island when he arrived in America in 1492 and has converted it in a checking point for the commerce between America and Europe. Above territory became very attractive for the colonial great powers of the XVII th Century.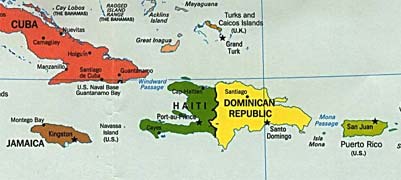 The island is situated between the Tectonic Patch of the Caribbean islands ( which moves eastward ) and the one of North America ( which moves westward) making it an active zone of earthquakes and tectonic movements. The shivers and movements have formed the relief into three mountainous systems without forgetting the peak of Duarte with its 3.175 m of height. With its tropical climate, the country is a usual stopping off place for cyclones and hurricanes.
The Dominican Republic is politically divided into 29 provinces and one National District. Santo Domingo is the capital and is situated in the National District nearby to the municipality of Villa Mella where we can found the village of MalNombre and the Educational Centre of Girón coordinated by Asociación para la Educación y el Desarollo Integral Girón Paredes.
Malnombre's Situation
The population lives in marginal communities without elementary services such as drinking water, electricity and sewers.
The inhabitants achieve temporary jobs not well paid, the rate of school desertion is high as the children should contribute to the economic means of their families.
The illiteracy rate rises up 30% while the average of the country is 18%.
Therefore, we should note the remarkable interest of the parents for the education of their children which is noticed by a rather regular presence in the courses.